Learn More About MLES
MLES 2021 Blue Ribbon School Information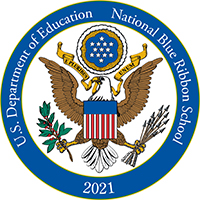 Mt Laurel Elementary School's motto is "It's All About the Kids: Every Day, Every Decision, Students First." MLES strives to provide students with a safe, nurturing environment in which to learn. Our number one goal is to build relationships with students at the beginning of the school year. Throughout the year, teachers regularly incorporate five minute meetings with every student to allow them to share their thoughts which develops a strong rapport.
The MLES House Program was implemented to allow students across grade levels to collaborate with each other and staff members on meaningful community projects. Each teacher, staff member, and student is assigned to one of five Houses. The House names are Honestidad (Honesty in Spanish), Rispetto (Respect in Italian), Amable (Friendly in Spanish), Magtiyaga (Persevere in Filipino) and Uaminifu (Loyalty in Swahili). The House names represent qualities that we all strive to exemplify. The House program has been a wonderful way to implement social and emotional learning activities.
MLES parents are an integral part of the Mt Laurel family. They provide our school with the tools to enhance student learning such as 1:1 Chromebooks and a Genius Lab where students participate in STREAM hands-on activities and experiments.
MLES teachers participate in job-embedded Professional Learning Communities where they analyze student data and discuss the student behind the data. Our teachers share successful strategies and activities, and faculty and staff work collaboratively to help students achieve success. Students know that their teachers truly love and support them.
To make every student a graduate and every graduate prepared.
Our vision at Mt Laurel Elementary School is to be the model for excellence in education.
We value:
Culture of Success: We believe in a positive and caring school culture that celebrates the character, integrity, and diversity of our students and staff.

Collaboration for Results: We believe relationships with parents, colleagues and students are what makes our school unique and special. We believe that we are a family of learners, a team that always depends on each other.

Commitment to Excellence: We believe in holding high expectations and supporting ALL students to success.

Community Partnerships: We believe that the support and diversity that our community provides enriches our lives and our learning.

Continuous Improvement: We believe in the intentional process of continuous improvement in every school and department because it is the standard for excellence.