NEW Student Enrollment and RETURNING Student Registration - S.C.O.R.E (registration program) will open for registration/enrollment of new and returning students for SY23-24 on April 10, 2023.

Spring Break Mar. 27 - 31. Schools and offices closed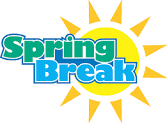 Check out these tasty treats! You can look but don't eat…because IT'S ART!! Mrs. Phipps worked with the students to make these beautiful creations. They sure do make us hungry every time we walk by the display!